One of the most popular forms of online casino gaming available today can be found at live dealer casinos. Live dealer casino gaming is thriving, with options ranging from blackjack and baccarat to roulette and super 6. Players are able to enjoy a live dealer experience through the continued advancement of technology. More software companies now than ever are offering a way to provide the excitement of live gameplay on the go.
Software, cameras, lighting, and dealers all come together to create a unique and quality source of entertainment for gamblers. Software companies like Microgaming, Playtech, Platipus Gaming and Global Gaming Labs have created a name for themselves by providing quality solutions in the live dealer sector. Get to know these companies and how live dealer technology works to better understand and enjoy the live gaming options.
How Live Dealer Online Casinos Work
In general terms, live dealer casinos utilize technology to stream video footage to players from home of the game as it takes place. There are two types of Live Casino streams, both varying in the way services are provided. One option is where a land-based casino streams the live dealer games. Casinos use the latest technology to stream live footage of the table games as they take place to create an authentic experience.
A second option involves a gaming studio. A studio will be created by a software supplier that will be specifically used to stream table games online. The study will be set up to offer a selection of games, including poker variants, blackjack, roulette, baccarat and more.
Regardless of the method the latest trends for live dealers include mobile streaming and crypto payments.
The location and operator offering the games will dictate what languages can be accessed as well as what type of games will be offered. Typically, all games are offered in English and formats include blackjack, roulette, and baccarat. Some live dealer casinos will add in poker variants like Casino Hold'em as well as other games like Super 6.
Online Casino Live Dealer Providers
There are several top-rated software companies that provide live dealer casino gaming. By learning more about such providers and where they offer service, you can access the best in live dealer gaming from where you live.
Visionary iGaming

At MyBookie Casino, players have access to a plethora of live dealer games via Visionary iGaming. The software company uses state-of-the-art video, audio and chat technology to broadcast live dealer games in land-based casino and studio environments. At MyBookie, the brand offers blackjack, American Roulette, Baccarat and other games. Wagering limits will vary, but typically, games offer buy-ins of $0.50 to $2,500.
Platipus Gaming

At BetOnline, the brand offers two live casino options, one known as the Live Casino Black. This option is powered by Platipus Gaming. It offers a sub-casino of sorts, featuring live dealer blackjack and roulette tables. Simply choose your game and buy-in range to get started enjoying live gaming in real-time.
Global Gaming Labs

The second live casino at BetOnline is known as Live Casino Red. Here, an even larger selection of live dealer games can be found, this time powered by Global Gaming Labs. The games are mobile-friendly, so players can experience live dealer on the go. Titles include blackjack, roulette, super 6 and baccarat. Table limits start at $5 and go as high as $10,000.
Tech and Equipment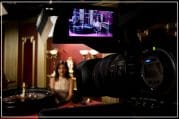 When it comes to the tech and equipment used for live dealers, there are essential components needed. Cameras, game control units, dealers and more all come together to create the experience. Cameras play a large role in how the tables are filmed for streaming. As more technological breakthroughs are made, more powerful cameras are being used for streaming.
The most important component to live casino gaming is the Game Control Unit. Every table has this component attached. It is a small device that will encode the video as it broadcasts. No live dealer game is possible without this product.
The monitor tech used is also important as it shows the supplier what the player will see as they play. The monitor allows the dealer to keep track of bets and how to run the game. The monitor also helps the dealer to see who is online and take part in live chatting.
Live Dealer Professionals
Lastly, the dealer is important. While not tech per se, the dealer is what will make the game fun. Quality software companies hire experienced dealers with a good personality so that players will want to come back, again and again, to take part in gaming.
Safe Real Money Gaming from Home
With live dealer gaming, players have a safe alternative for real money gaming from home. Easily access table games of all types, interact with the dealer and make decisions in real-time, just as you would if you were at the casino. Live dealer casinos are extremely popular among the gaming crowd across the globe as it offers a unique experience, one that cannot be matched with traditional casino games. Give live dealer games a try today and you will see just how different your real money gaming experience can be.