Mitsubishi Lasers have been around since the 1970's and continue to be used  throughout the world daily. Each year they come out with the latest laser cutting technology that rivals any other company out there. These are not your ordinary lasers, not only are they meant for being used outside, they are meant to be used in harsh conditions. It is the fastest 6 KW fiber laser on the market.
2D CO2 LASERS
This machine is meant for faster cutting at a lower cost. This machine has many uses like piercing steel at a higher quality than most machines out there. Each year they are improving and updating it which has led to a forty percent speed gain since last year's model.
FIVE – AXIS CO2 LASER
This laser system is a three-dimensional machine which allows for a wide range of complex applications that otherwise would not be taken on by most people. The machine has a unique five and six axis system that greatly increases the range of abilities it has along with significantly decreases the time and manpower that it would take to get a job done.
TANAKA CO2 LASER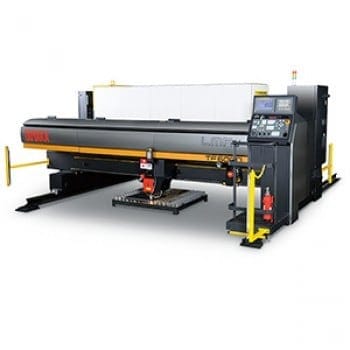 The Tanaka CO2 Laser is one of the biggest laser cutting machines you can find. These machines are meant for large part and thick plate fabricators. It is available in three different oscillators which further allows you to figure out how economical you would like to be.
FIBER LASERS
Fiber Lasers are unique and truly amazing. They use extremely rare earth elements in order to create these extraordinary machines. When using fiber optics, it is ideally used for cutting thinner materials at a higher cutting speed. This year they decided to add a touch screen instead of the usual controls which made the machine much easier to figure out than in the past.
When it comes to these machines it will be extremely hard to find anything out there that is better. These machines are mostly used for laser cutting at an industrial level but there are just so many other uses that you are probably not thinking of. Besides for industrial uses, some of these machines are great when it comes to laser engraving a wine glass or taking old jelly jars and turning them into spice jars. Originally it was typically used for manufacturer applications, but now many schools, and hobbyists are finding their own unique uses.