In a mobile age, retail apps have become standard, with 90% of millennials using their smartphones in-store whilst they shop. These shoppers are clearly prone to use their smart phones as part of the shopping experience, which has urged major retailers to seek mobile app developers to help develop apps of their own and venture into the mobile world.
However, many retailers are missing fundamental features within their apps which will help draw in and capitalise on the shopper's experience. The traditional loyalty scheme no longer holds the customer's attention. A retail app is only valuable if it drives engagement and sales. Here are 5 features that your retail app is missing that can really help change and expand the customers experience.
1) Personalised Vouchers
Whilst the loyalty scheme proved successful in the past, shoppers are seeking personalisation. Since mobile devices contain an abundance of personal data, retailers can gain insight into their customer's shopping history, therefore tailoring vouchers just for them. An example of this would be Amazon.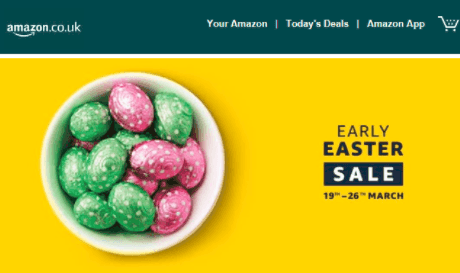 The subject line for their voucher reads 'The Early Easter Sale is on, with daily deals on everything you're into'. Amazon have used their customers shopping history to tailor personalised vouchers for their customers. These personalised vouchers can drive quick conversions and lower drop off rates, as customers will appreciate that the app is not only saving them money but is simultaneously providing them with insight on the latest products they'll want.
2)Omnichannel Cart
A customer's shopping journey can now extend across many platforms. People can research items on desktops, make purchases on their smart phone or check them out in-store. Retailers can optimise this and drive sale conversions by ensuring that customers stay with them throughout that entire journey – regardless of the platform they use. Omnichannel carts bundle smart phone, desktop and in-store transactions to keep the experience consistent. An example of this is Tesco who have combined the in-store items with online items in one single transaction, or customers can come to the store through a BOPIS (buy online, pick up in store) whilst having the option to continuously add more items to the open omnichannel cart.
3) Security
High security for your customers and their data, is something that should be taken lightly. Both big and small retail chains should always ensure that all customer's personal information (e.g. credit card, address, etc.) shouldn't fall into the wrong hands.
Even today, many companies retail and non-retail are suffering from a wide assortment of security issues. This means that retail chains should make sure that there is complete transparency within the customer relationship. Be clear to your customers about your privacy policy.
4) Real-Time Pricing
Price is one of the biggest reasons why people go window shopping. As 90% of millennials use their smart phones in-store whilst shopping to compare price. Shopper's today are price sensitive. There are ways for retailers to make their app a 'must-have', by letting the shopper know they're getting the best deal possible and the best way to do this, is through real-time pricing.
Retailers can offer instant discounting on products that aren't selling as quickly to help reduce the inventory or gamify the price so that customers can get a surprise deal based on their shopping profile. There are also other options, such as, automated price matching, as this can prevent shoppers from looking at an items in-store and then looking elsewhere online for another retailer offering the same product at a lower price. An example of this type of pricing can be found by Amazon: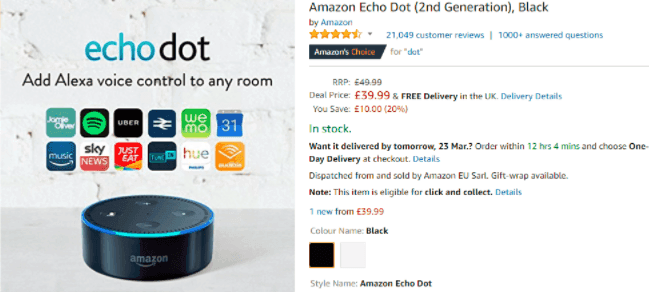 Throughout the day Amazon's prices change, keeping all the prices competitive in real-time, which helps to optimise inventory, with the added benefit of customers interacting with the app.
5) Checkout
The checkout experience on an app is very important. Retailers should ensure they create a seamless checkout system as this is the point where most customers drop off. Smart phones open up all kinds of possibilities for how people can pay, whether it's pre-ordering, picking up from a local store, or a mobile check-in. Customers don't like waiting, instead this saves time and improves the customer experience and increases customer satisfaction.

An example is the McDonalds app, the 'order on the go' feature allows customers to place and pay orders from their smart phone and later pick it up in McDonalds. Mobile checkout can be used as an added bonus to present suggestions and recommendations which can result in larger shopping carts.
All the above-mentioned features should be at the heart of all high performing apps, so that retailers can have a dramatic impact on sale conversions. Retailer's should pay attention to cornerstone features to be sure they're equipped with the right capabilities leading to customer personalization and engagement, whilst matching costs in real-time.