Makeup – The Past, The Present, The Future
As any beauty guru would agree, recent years have seen the art and concept of makeup drastically evolve, so much so, that for most of us makeup now plays a larger part than ever before. Vast amounts of innovation have resulted in the industry developing and entirely new dynamic as well as gaining its avant-garde reputation.
Advancements in technology have proven to be a game changer for the beauty industry, with makeup brushes in particular being the catalyst of a significant rise in the popularity of makeup accessories. The exceptional speed of technical advancement has left the cosmetic market offering an overwhelming variety of makeup related accessories, each tailored to fulfil a specific need.  Whether it's the specific purpose of a brush to achieve a desired technique, or the material it's made of, its true to say there's something out there for every makeup enthusiast. Yet despite the markets overwhelming choice, how many of these truly cater for the entirety of our needs?
Mini-Mai
Created with the most innovative of technologies, Mini-Mai presents its first multiple purpose makeup brush set – an original creation designed to address the needs of every makeup aficionado.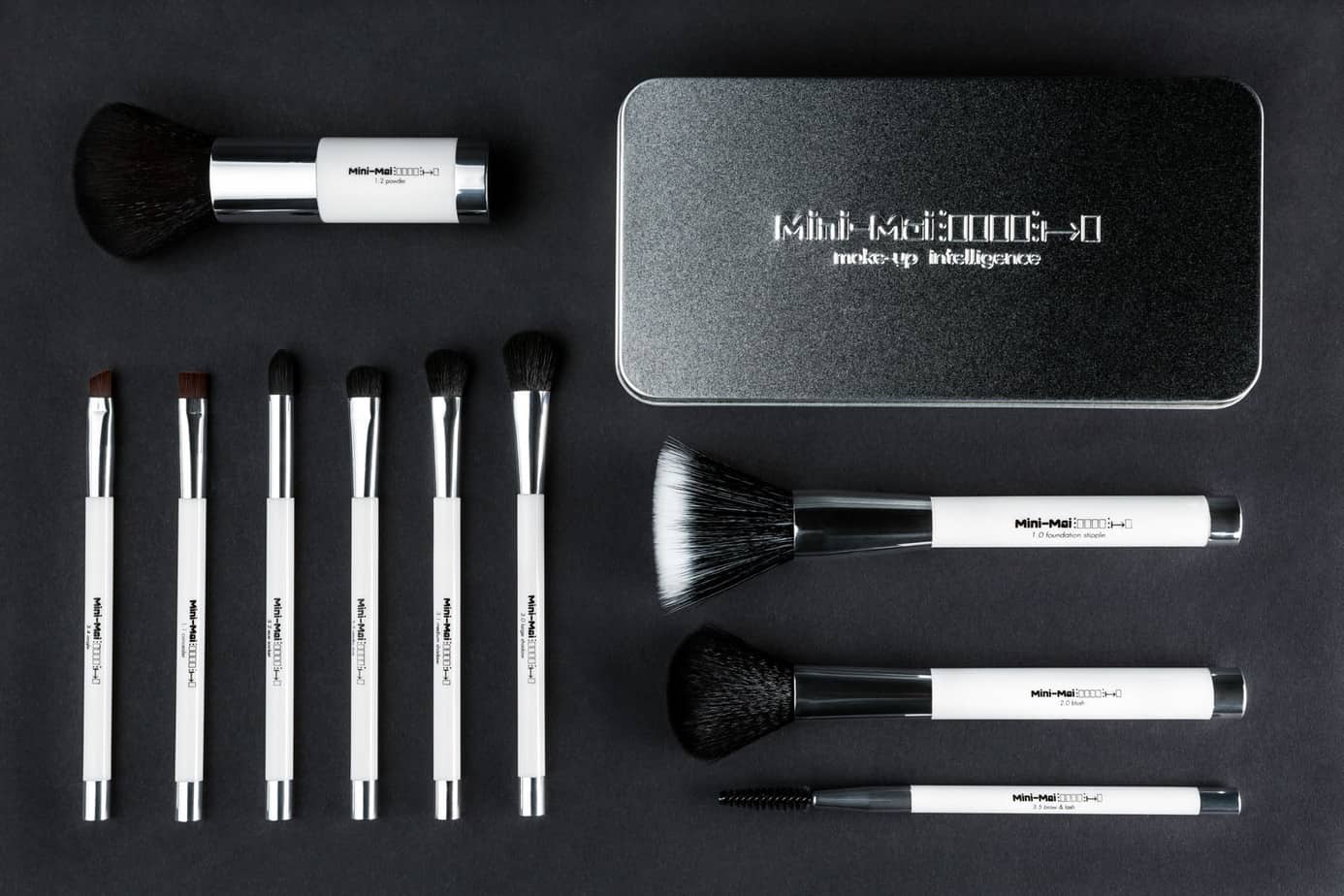 The Design: Composed of 11 essential makeup brushes, the Mini-Mai brush collection promises to enhance the process of makeup application, offering a variety of specifically designed brushes to achieve any desired look.
The Storage Case: Mini-Mai reflects its innovative design through the use of ferromagnetic brushes and the accompanying storage case. The case can be utilised as an easy storage method when on the go, or as a convenient storage platform by standing each brush upright. This unique design ensures brush heads are kept separated, a hygienic solution for storing makeup brushes and reducing the spread of bacteria - In turn simultaneously creating a convenient and attractive display.
The Brush: Each Mini-Mai brush has been created using cruelty-free and vegan-friendly synthetic materials without compromising performance. The accurate design and quality of each individual brush ensures a flawless finish to each makeup application, particularly when applied following the correct technique – continue reading to discover key makeup application tips to go hand in hand with your Mini-Mai makeup brush set: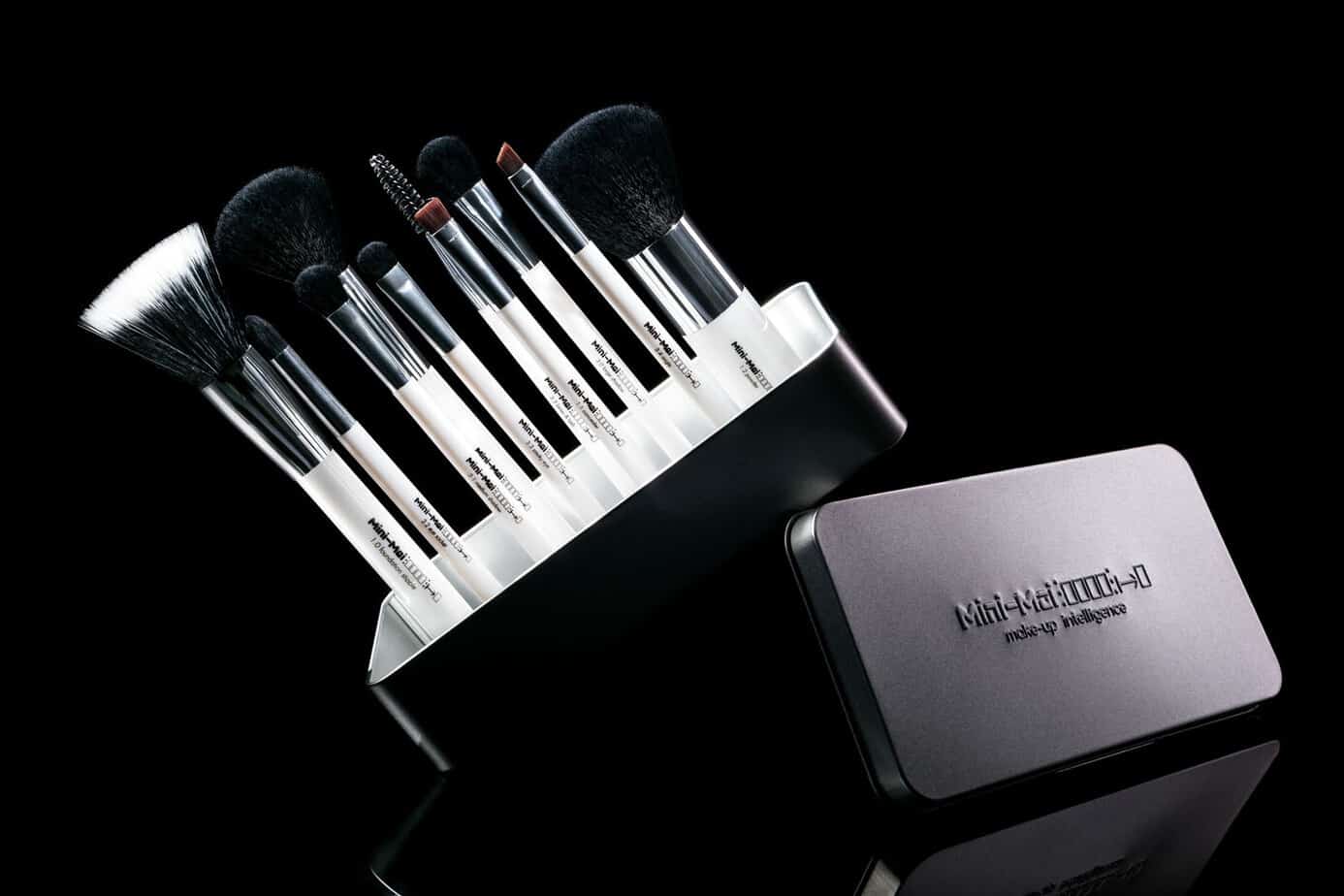 Application
The Base – Foundation
Once skin has been prepped and primed, foundation is the next step in building any strong makeup look, so it's just as important to own a foundation suitable for your unique skin type as is it to use the correct brush and application method. The type of foundation (liquid or powder) will determine the type of brush needed, as well as the application technique. Powder foundations should be applied using a light and fluffy brush to avoid the appearance of an unnaturally heavy base. Before applying directly to the skin, be sure to tap off any excess powder after dipping it into the product, then dust lightly over your face, building a higher coverage over any oil prone areas.
For liquid foundations, begin application by using the product sparingly, applying to the face whilst blending outwards from the centre to avoid any noticeable makeup lines. When aiming for a full-coverage look, it's crucial to start with a lighter base as opposed to overloading the skin with foundation. Building upon lighter layers of foundation will ensure that to achieve the most natural high-coverage appearance. Whether it's power or liquid, Mini-Mai's soft texture bristles have been specifically designed to achieve a flawless application, without any streaking.
Bronzer and Blusher –
Both bronzer and blusher are perfect for adding an additional splash of colour in aid of achieving a fresh and healthy glow. When applying coloured powder precision is crucial as it's easy to get carried away and end up with an unnatural and overpowering display of colour. The compact bristles of a medium size powder brush will ensure precise application. Similar to the application of foundation, begin by loading the brush with only minimal product, removing excess powder before applying directly to the skin. Dust the bronzer in areas where natural shadows fall, such as below the cheekbones, under the jaw line and the top of the hairline. This will help sculpt, contour and emphasise the sharpness of facial features whilst adding a healthy glow.
Blusher should be directly applied to the apples of the cheeks which can be located by smiling. Lightly apply powder to the apple of the cheeks and blend outwardly towards the hairline in order to achieve a subtle blend of colour.
Eyeshadow –
Before applying eyeshadow, prime or conceal the eyelid as this will help to maintain the longevity of wear and emphasise the colour. To achieve a soft natural blend, use two to three different shades of the same base colour and apply using the Mini-Mai eyeshadow brush designed for precise and accurate application. Use the lightest shade to cover the entire base and inner corner of the eyelid. Add the darker shade from the bottom of the lash line to the outer corner of the eyelid, blending into the crease and under the eye to create an enlarged aesthetic.
Lip Colour –
A hint of lip colour is all you need to complete a look or create the appearance of a bright and awakened face. If you don't have the time to apply a full face of makeup, or perhaps you're simply in the mood for a makeup free day, adding a hint of lip colour can bring your natural look to life. To achieve a smooth, bright and long-lasting finish, follow these few easy steps:
1 – Before applying lip colour, lips should be prepped with an exfoliating scrub (lips scrubs can be found in most beauty stores, or simply create your own using a combination of brown sugar and honey to form an exfoliating paste) Using your finger or a toothbrush, gently buff away any rough skin and rise with cool water.
2 – Condition your lips using a lip balm / conditioner. This will ensure lips remain soft and moisturised – particularly after exfoliation.
3- Neutralising your natural lip colour before applying lipstick is important for reflecting the true colour of your chosen product. This can be done by dabbing a light layer of concealer onto your lips using a clean finger or a small fluffy brush (use a shade that matches most closely to your natural lip colour).
4- Before applying your chosen colour, ensure to line your lips with a colour that complements/ matches that of your natural base. Not only will this create a fuller appearance but prevent colour from smudging.
5- There are multiple ways in which to apply your lip colour. Apply colour directly from the product itself, use a clean finger or a specialised brush for precise application. Apply product from the centre of the lips to the outer corners, building upon layers to intensify colour.
6- To define and complete the look, use a fine brush to apply concealer to the outer edges of the lips.
Hygiene – Cleaning your Brushes
In addition to using makeup suitable for your specific skin type and the correct tools to apply it, makeup application is best executed when brushes are clean. Not only does this ensure colours are kept true when applied to the skin, but most importantly reduces the spread of any bacteria (in turn helping to prevent multiple skin issues such as the appearance of blemishes and acne!).
Brushes should ideally be cleaned after every application of makeup. The most simple and convenient way to do this is to use shampoo. Similar to the way that you would wash your hair, shampoo and water is all you'll need to provide your brushes with a deep and effective clean. Simply prepare a bowl of warm water, adding a drop of shampoo to create a cleansing solution. Rinse the bristles under a clean flow of warm water before dipping the brush into the mixture for a thorough cleanse. Depending on the build-up of makeup, refreshing the cleaning solution may be necessary until the mixture remains clear and no makeup remains on the brush. Once brushes have been thoroughly cleansed, rinse under a fresh flow of warm water and leave to dry naturally. Take care to only immerse the bristle in water otherwise water can get into the ferrule (metal part) causing the glue that binds bristles to the handle, much weaker, leading to shedding.
After cleaning your makeup brushes it's important to maintain cleanliness. To help preserve the cleanliness of each brush, Mini-Mai's innovative storage case has been designed to aid hygiene and prevent the spread of bacteria. The convenient storage design ensures brushes stand upright and bristle heads are separated – ready to go for your next application of makeup!