One of the most intriguing features of monitoring the rise of bitcoin is the polarity of opinion the digital currency generates. The divergence between those who proclaim bitcoin to be a revolution and the end of cash and those who constantly clamor the bitcoin bubble has finally burst is staggering.  Given its recent stability there is little doubt that bitcoin will continue to develop, but the fears over price have been replaced by very real concerns over a lack of diversity in the bitcoin universe.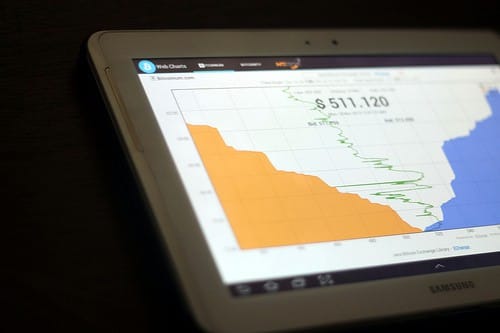 "Bitcoin Chart" (CC BY-SA 2.0) by Fabian Figueredo
The Story so Far
During the year it came into the mainstream of public consciousness in 2013, Bitcoin gained 5,929% to easily surpass all other currencies in gains. Nevertheless, the following year it lost -62% of its value to become the world's worst performing currency in 2014. Volatility has been the word most associated with bitcoin and the price drop to below $200 in January of 2015 would have caused considerable consternation for investors.
Although 2015 had its fair share of consolidations and failures, venture funds poured into bitcoin and blockchain-related startups. Some of those early to the game, such as the bitcoin-centered vegas casino bitcoin, were starting to realize the advantages in terms of a new client base, low costs and swift payments. In the case of vegas casino, the option given to players to mine for bitcoins on their faucet or exchange a range of currencies for bitcoins has also given the company a unique selling point that gives them an edge in a hugely competitive market.
Although 2016 began with the usual uncertain predictions, it is back to doing what it is supposed to do, and that is appreciating over time due to the finite supply supported by increasing demand each year. On 28th November this year, the day marked six consecutive months that the digital currency's price has traded above $500. Its capacity to remain above this crucial level of $500 for a sustained period should prove promising to those advocating the digital currency.
Forecasting the future of financial markets is not an easy task, yet 2017 should see bitcoin continue to rise steadily, rather than the meteoric rise and fall of the early years.
Moreover, with automated Bitcoin trading tools, platforms, and robots such as Bitcoin Prime making trading more accessible, it will be interesting to see what happens next. With that being said, you can learn more about some of these tools by taking a look at some of the resources on the Kryptoszene website here: https://kryptoszene.de/bitcoin-robot/bitcoin-prime/
The Problem
With all this is good news for bitcoin, there is a problem in the form of diversity and particularly a perceived lack of women in the bitcoin universe. This might not seem a huge predicament, as many male-dominated industries exist, but until women can be brought into the bitcoin fold, broader adoption of the digital currency will prove difficult. Yet, although no one is doubting the landscape is male dominated, there are a number of women making a name for themselves in the bitcoin community.
Margaret Runchey/Satoshi Nakamoto
Finding out that a woman was the creator of bitcoin would be amazing. Although it obviously hasn't been confirmed and there have been numerous people ousted or claiming to be Nakamoto, Margaret Runchey is the first female to be suggested. The reasons for this are that she created and patented a transaction system similar to bitcoin before Nakamoto's 2008 release and she has been elusive in her work of late. Further investigation is required, but fingers crossed on this one.
Blythe Masters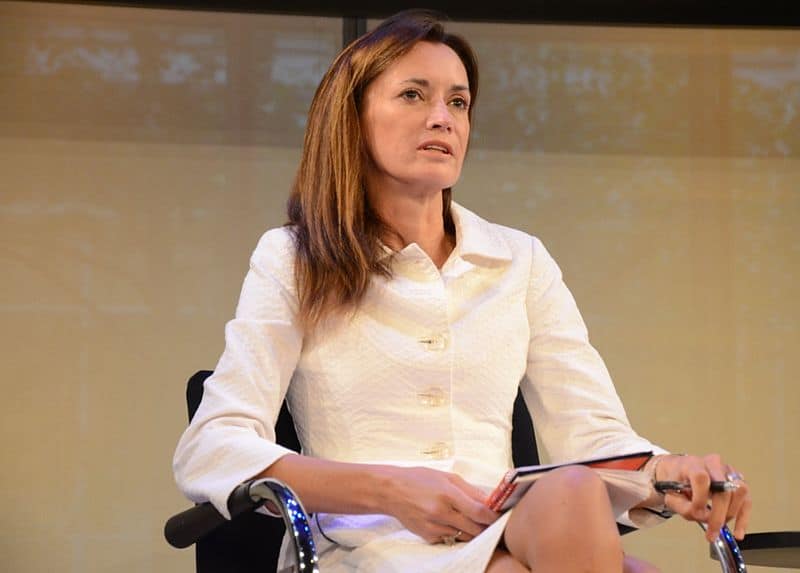 Blythe Masters speaking at the blockchain conference ConsenSys 2015 (CC-BY) by Btcgeek
Blythe Masters is the high-profile former JP Morgan executive who has turned her focus to the adoption of blockchain in institutional finance. Her firm is designing software that will enable banks, investors, and other market players to use blockchain technology to change the way they trade loans, bonds, and other assets. When the technology shifts from hype to commercial reality she'll be at the center of the whirlwind that will change all financial markets.
Perianne Boring
Perianne Boring is the founder and the president of the Chamber of Digital Commerce, a Washington D.C.-based organization that is the world's largest trade association representing the blockchain technology industry. She has founded several industry initiatives including the Blockchain Alliance, a public-private forum between industry and law enforcement; the Global Blockchain Forum, an international initiative developing industry regulatory best practices; and the Digital Assets Accounting Consortium, which is establishing accounting, auditing, and reporting standards for digital assets. Boring was also keeping a blog titled Boring Bitcoin Report.