Planning and having a wedding are one of the few extremely significant events of your life. Having everything run smoothly becomes paramount as you will most likely only ever have one wedding in your lifetime. Choosing to have a destination wedding on a beach can be exhilarating whether it is that amazing breeze or the sand on your feet. At the same time, planning a wedding can be a bit complicated so hopefully this mini guide can help you out.
Decorating the Tables
Depending on which way you choose to decorate the tables at the wedding dictates the theme and aura around you, and all your guests. Whether you have custom wedding coasters, or orchids as your centerpiece, the tables are important. Personally, I chose a more modern beach theme with a large glass centerpiece that was filled with sand and on the top was pictures of when my husband and I first met. Beach themed wedding save the date are important as well so your guests can make sure that they can come.
Wedding Invitations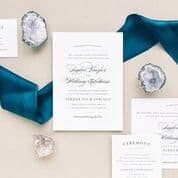 Wedding invitations can be confusing as there are just so many different styles and colors to choose from. There are sites out there that can help simplify this process by showing you what your invitation will look like before you actually order it. Many sites even bundle everything together. If you are having a destination wedding then you will need to send out a "save the date" to your guests so they can book the proper transportation.
Hotels
If you are going to be using a hotel then it is important that you negotiate a rate with them before you decide on the venue. Typically hotels have a special rate for you, and your guests when it is for a wedding. Finding out the rates can be important because you do not want to make your guests go broke in order to go to your wedding. Yes, it is your special day, but it is better that everyone is happy to be there.
Overall a destination wedding is going to be something you, and your guests are going to always remember and hold special in their memories. Also, the best part about having that beautiful beach wedding is that you do not have to get on a flight for your honeymoon because you will already be in a beautiful place.