The popularity of wearable devices like Fitbit and Google Glass has implications for numerous industries, most notably fitness and healthcare. The rapid growth of wearable technology products, spurred by the desires of younger consumers, shows no sign of slowing down. In fact, innovative advancements make the future of wearable technology appear full of unlimited possibilities.
Wearable Technology
History
Depending on the definition used for "technology," the first wearable technology can be traced back as far as the 13th century, when eyeglasses were invented. Later, in the 16th century, the earliest portable and wearable clocks, Nuremberg eggs, were invented. They were designed to be worn around the neck and became a popular status symbol in Europe until pocket watches and wristwatches arrived. Another early example of wearable technology came in the form of an abacus ring, during the 17th century in China.
The first wearable computer was created by mathematics professor Edward Thorp in the 1960s. In his book "Beat the Dealer," Thorp revealed that he built a computer small enough to fit into a shoe in order to cheat at roulette. A timing device helped predict where the ball would land on a roulette table, giving Thorp and co-developer Claude Shannon a 44 percent edge in the game.
Over the next couple of decades, several devices popularized and modernized wearable technology. The first calculator wristwatch was released to the public in 1975, and the Sony Walkman arrived four years later. In the 1980s, digital hearing aids were first released.
Wearable technology achieved mainstream popularity with the Bluetooth headset in 2002. Between 2006 and 2013, iconic wearable technology devices Nike+, Fitbit and Google Glass were released. In 2014, dubbed "The Year of Wearable Technology" by several media outlets, activity trackers grew in popularity and the Apple Watch was introduced. Other wearable technology devices, such as those that track seizures or sunlight exposure, continued expanding the industry.
Industry Trends and Stats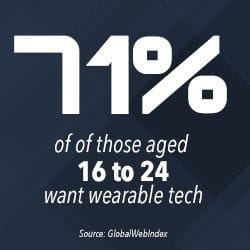 "Wearables will become the world's best-selling consumer electronics product after smartphones," CNBC reports, citing forecasts by market research firm Euromonitor. Autonomous or smart wearables are projected to exceed 305 million units in 2020, with a compound annual growth rate of 55 percent.
Projected sales figures for autonomous wearables are well above laptops and televisions. Smartphones will remain dominant in the consumer market, with projected sales to top 1.6 billion units in 2020.
Autonomous wearables, such as smart watches and Google Glass, refer to technology capable of running third-party applications. Typically, they have built-in connectivity features and advanced processing capabilities. In contrast, passive or basic wearables such as Fitbits can only provide biometric data about users.
In the middle of 2015, International Data Corporation estimated a 173 percent increase in wearable devices for 2015 from 2014. Basic wearables represent much of the expected short-term growth, with smart wearables providing more long-term growth. "The demand for basic wearables, those that do not run third party apps, has been absolutely astounding," said Jitesh Ubrani, IDC's senior research analyst. "Vendors like Fitbit and Xiaomi have helped propel the market with their sub-$100 bands, and IDC expects this momentum will continue."
Smart wearables like the Apple Watch and Microsoft's HoloLens indicate an upcoming change in computing, Ubrani said. "The transition from basic to smart wearables opens up a slew of opportunities for vendors, app developers, and accessory makers," he added. "Growth in the smart wearables market points to an emerging battleground among competing platforms. Android Wear, Tizen, and WatchOS are moving ahead with improved user interfaces, user experiences, and applications. These will raise the expectations of what a smart wearable can do, and each platform is vying for best-in-class status. We're not there yet, but we're seeing the building blocks of what is to come."
According to GlobalWebIndex, 71 percent of those ages 16 to 24 want "wearable tech," defined as a smart watch, smart wristband or Google Glass. Nearly two-thirds of global Internet users have worn a piece of tech already or are "keen to do so in the future."
Applications
Fitness
A report from Juniper Research projects that
fitness devices will continue to dominate the
wearables market until 2018, when smart watches will become more popular. By 2018, fitness wearables in use will nearly triple from the 19 million devices in use for 2014.
Intuitive uses and lower retail prices are part of the appeal for these wearables, and they create two classes of fitness devices. "Basic trackers, like the $13 Xiaomi MiBand, will sell on their value, while more complex devices, such as the Fitbit Surge, Microsoft Band and Samsung Gear Fit, will offer additional features beyond fitness, such as notifications and
music control," the report said.
The wearables industry offers the fitness world several types of devices and applications. Consumers can choose from a multitude of tracking devices, sensors, software apps and wearable apparel technology. From gamification of club activities to full-body suits retrofitted with sensors to track physiological data, consumers and athletes can gain more insight into their fitness goals and progress. One startup, California-based GOQii, is pioneering a wearable fitness band paired with remote personalized coaching.
Healthcare
The healthcare sector has already witnessed solutions for wearable technology. "The sky's the limit when it comes to wearable tech in healthcare and potential innovations extend way beyond activity trackers," Forbes contributor Unity Stoakes writes. "We're already seeing sensors that improve quality of life, enable home diagnostics, make virtual health and remote monitoring possible, and that's just the tip of the iceberg."
Wearables include a headband and software platform for brain injury detection, a wristband that monitors blood oxygen wirelessly, smart patches for remote monitoring and home diagnosis, a tattoo-like plastic patch that can monitor vital signs and a smart contact lens that can monitor the user's blood sugar levels. Great Lakes NeuroTech received a $1.9 million grant from the National Institutes of Health to develop a wearable that will help patients with Parkinson's disease. The grant is expected to further research and develop a wearable capable of providing deep brain stimulation, a common method of treatment typically requiring heavy physician involvement.
Other Industries
Wearable technology is poised to impact several sectors of the economy. According to a PricewaterhouseCoopers report, certain sectors stand out as having the largest opportunity for wearable technology solutions, aside from fitness and healthcare.
Entertainment, media and communications companies likely have the best opportunity for advancement and growth. Media and entertainment can become more immersive and fun. Wearables can integrate social media updates. Video games can become more visually and physically engaging. And advertising can take advantage of highly targeted placements with greater relevancy.
Retail experiences can be enhanced through wearable technology. Consumers desire a better customer service experience and want rewards for being loyal customers. In-store merchandising and promotional spending by brands can help fund retailers and improve the shopping experience.
Technology "stands at the epicenter of the wearables movement," according to PricewaterhouseCoopers. Users would like their workplace to integrate wearable technology for increased efficiency and productivity at work. Wearable tech can also boost payment processing on the financial back end. Finally, many customers wish for wearables that make technology simpler to use.
Responding to Customer Demand
Consumers, especially younger customers, desire wearable technology. Euromonitor expects it to be a $27 billion industry by 2018.
The fully online Master of Business Administration (MBA) from Grace College prepares business leaders for innovation in a demanding marketplace. The MBA program provides an ethical, faith-based approach to best practices in business, along with the knowledge and skills needed for success. Students learn in a convenient online learning environment, providing the flexibility to complete their degree while they maintain their current schedules.