Are you a technical addict but you still love to garden? Take advantage of the little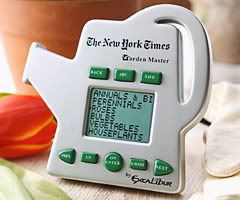 gadgets that are offered to give you shortcuts and help you enjoy your time out of the house and away from the computer for a bit.
Enter the Electronic New York Times Garden Master, a little gadget that will answer your most common and important gardening questions. With over 1,000 answers you are sure to find your green thumb.
Providing comprehensive information on:
flowers
landscaping
potted plants
general gardening
Visit the Discovery Channel Store for purchase information and detailed specifications.