Want to make shopping easier? There's an app for that. As ecommerce grows, it's becoming more and more overwhelming to navigate the variety of places you can shop for items. While we live in an extraordinary age of technology and convenience, we need help organizing and simplifying our choices. It's sensory overload after a few minutes spent exploring a handful of shopping websites in the hopes of finding great deals or that perfect gift. This guide will teach you more efficient ways to shop for presents, stay informed about deals, and spend less cash on items you love.
We've compiled five can't-live-without shopping apps and websites that make it easier to be a smart shopper. Whether your goal is to save money or to make your life easier, these stress-saver apps restore joy (as well as your sanity) in shopping again.
Giftagram
It's so hard being popular. But really, it is a challenge when you have to buy gifts! Birthdays, holidays, and special occasions call for gift purchasing all year round. As we get older, there's always the next housewarming party we need to shop for. Instead of feeling flustered, be a smarter shopper and download the Giftagram app. Giftagram is a shopping website that makes it "easy to be thoughtful." Offering a clean and simple layout, you can easily explore potential gifts for your friends and family. They also feature a blog on their site with inspiring tips on great gift ideas for specific occasions. Let this app curate the perfect gift set for you and use less effort hunting for the best options. This will save you the hassle of physically traveling to a brick-and-mortar store or spending time in what is the vast land of endless possibilities (the internet). Giftagram partners with local brands and companies to create a unique and thoughtful present for any occasion. Let your loved one know you care while letting Giftagram do the busy-work.
Dealspotr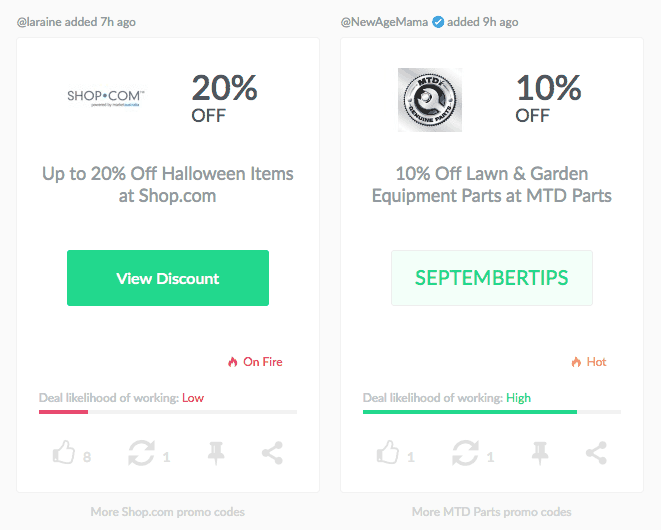 For the first time, brands and shoppers can come together on a social platform made specifically for discovering deals and discounts. Dealspotr is an easy-to-use "deal-sharing" shopping app that lets you join a community of people looking to provide and share deals. Choose from a variety of categories including fashion, food, automotive, toys, events, crafts, electronics, and more. As a brand, this is a great opportunity to broadcast deals to a wide audience. For the shopper, this is a smart way to save money. Unlike the hundreds of clunky coupon websites out there, Dealspotr keeps it fresh. You won't find expired or sketchy discounts. What's interesting about this app is that it tells you how likely it is that the coupon will work. Dealspotr is a trusted shopping source that lets you know what the low-down is on any given deal. Browse big-name stores like Amazon, Starbucks, Target, Walmart, McDonald's, Old Navy, IKEA, among others. There are new deals every day, and it only makes sense to check Dealspotr before placing any purchases you'd normal make.
Stockx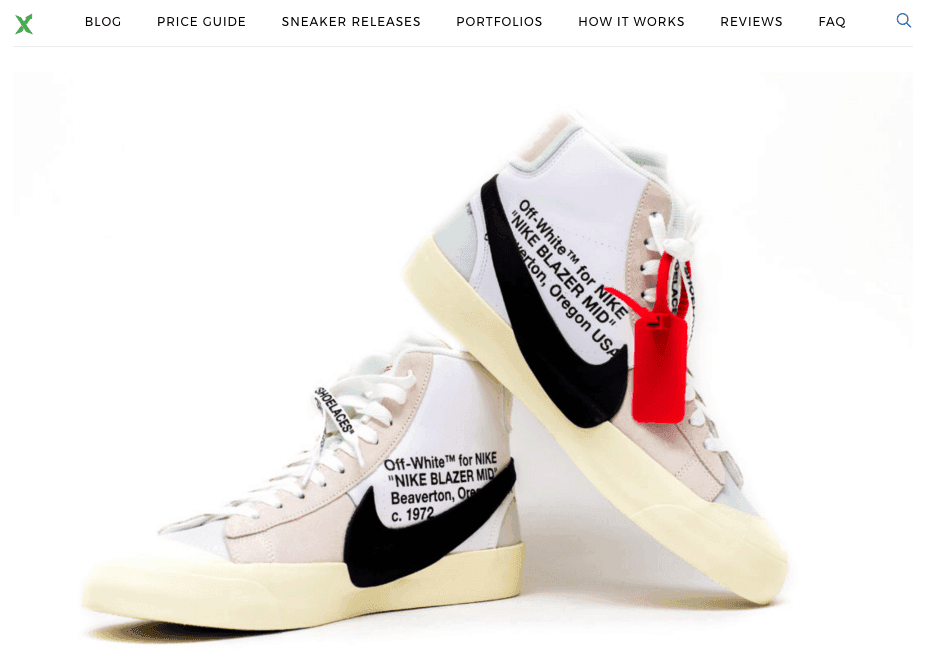 Don't get burned by phonies. Stockx is the premium destination for buying and selling authentic sneakers. At Stockx, you can be assured that the Retro Jordans, Yeezys, or Nike's you're looking for are 100% real. When you buy these items anywhere else without a middleman to verify authenticity, you never know if you're buying a knock-off. It's only after the shoes have worn down mere weeks after purchase and the seller is long gone that you realize you've been duped. Be an informed shopper and go with a company that will do the work for you. You can also find luxury brand watches and handbags on Stockx. Shoppers make bids on items and sellers place asks. The transaction is complete when the bid and asks meet.
Mona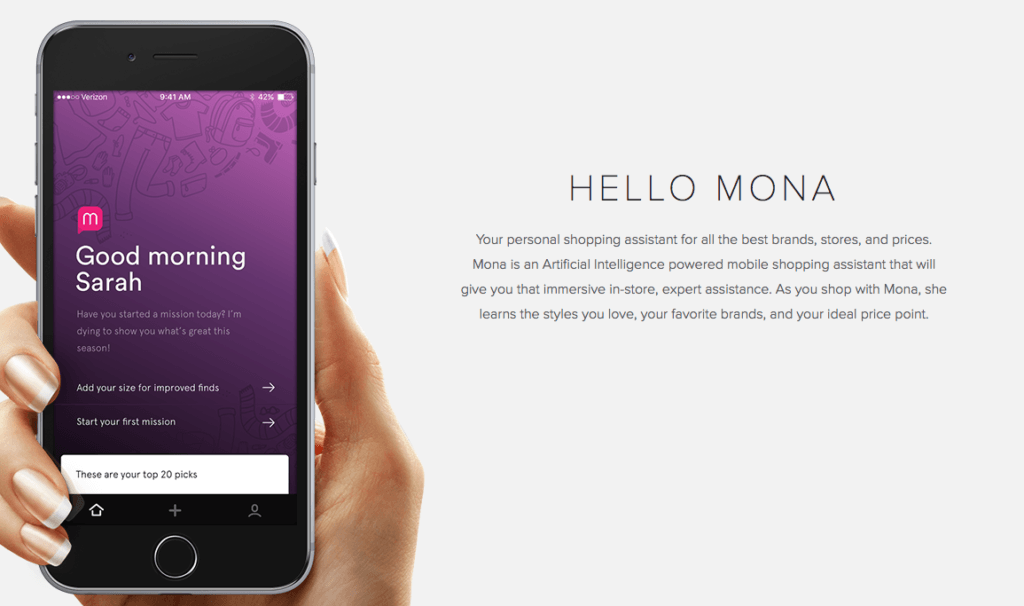 Mona is designed in Seattle by Amazon alumni who were inspired to create their own brand. These former software engineers, product managers, and designers discovered a new way to simplify shopping. Using artificial intelligence technology, this team emphasizes personalization. They describe Mona as a "smart assistant." This means that over time, you'll have your very own AI smart shopper buddy to help you make easier choices. Let Mona get to know you, and make future shopping errands fun. The ever-expanding company is planning for the future and states, "In the future, she'll do returns, re-orders, local search and more." Stick with Mona and you'll always be a shopper ahead of the curve.
Shopami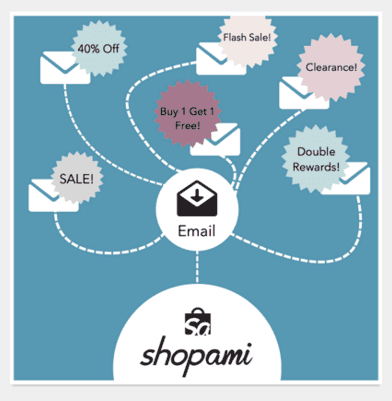 Hate getting so many random company sales emails but don't want to miss a deal? Shopami is the genius way to get all of those deals and discount notifications condensed into one app. Shopami does the organizing grunt-work, so you don't have to. Handpick your favorite brand in the app and get notifications when a sale comes up. This is especially useful when limited time flash sales happen. As if that's not enough, Shopami will send you an alert to remind you of a deal when you're near that particular store. For example, if you are driving by Banana Republic, you'll receive a notification about a sale they're having. You'll also get notifications letting you know if a sale is about to expire. There is no reason to pay full price if a deal for your desired item exists. Without Shopami, you may needlessly spend more money. Shopami will alert you of discounts and deals from companies like Ann Taylor, J.CREW, Bed Bath & Beyond, Victoria's Secret, and more. Instead of fishing through emails and random shopping site coupons before heading out for a shopping trip, download Shopami and make it simple.
Summing it up
The farther technology progresses, the more convenient our lives become. These cutting edge companies put the fun back into shopping. While desktop versions work fine, downloading the app version for each of these shopping websites is definitely the easiest way to shop. This way, you'll stay in touch with spectacular deals on the go. Whether you're using an Android phone or iPhone iOS, downloading these apps is easy. So, why not use the best shopping apps available and make your life easier?