An integrated marketing campaign can bring the digital and in-store experience together to create an unforgettable holiday campaign. 
It's no secret that the holidays are a moneymaker for retail businesses. Last year, holiday retail sales were over $700 billion -- that's a huge amount of money spent just in the last quarter of the year. 
Holiday shopping has always traditionally been a time when people had to line up hours before a store opened and run to the toy section to get the items their kids wanted. In today's shopping environment, this still happens (and probably always will for those Black Friday deals) but as more people begin to shop online, the landscape is changing.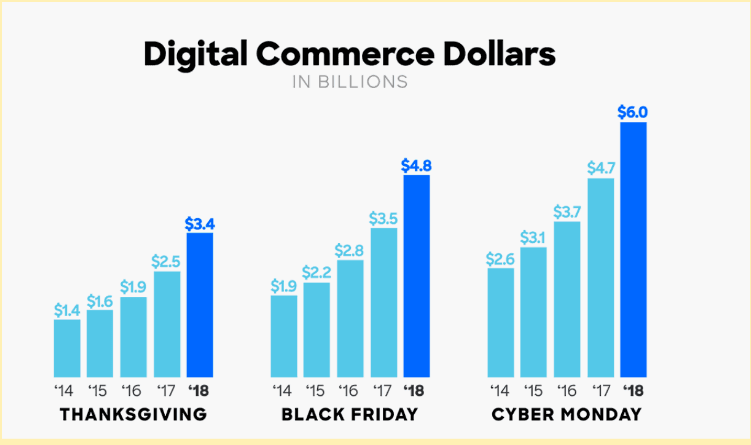 Retail holiday says continue to grow year-over-year. As consumers are spending more, there is a huge opportunity for you to increase your store sales -- you just need to know how to reach your customers. Image courtesy of
ComScore
.
Of the $700 billion spent in 2018, over $123 billion was accumulated through eCommerce sales. That means that people are starting to shift their shopping styles to more digital and mobile-friendly options. However, for those who have a brick and mortar store using an in-store sign is going to be extremely important.
So where does that leave us as marketers? Should we put all our efforts into the huge number of sales that come from in-store shopping, or try to push customers to our digital pages to improve eCommerce sales? 
We're here to tell you that you should, in fact, be doing both and making an effort to bring them together for an amazing customer experience. There's a way to incorporate both the in-store and digital experience to create an unforgettable holiday campaign. So let's dive in. 
Here's the cliff notes version for those who want to skip ahead: 
Identify three marketing efforts that can work together for an awesome holiday campaign

How each can help you reach your customers

From there, understand how they can work together 

Put those into action for the best holiday marketing campaign out there 
The Three Main Marketing Tactics
There are plenty of different marketing tactics out there that you can implement into an integrated campaign. For the purpose of scalability and time, we'll focus on three main tactics:  in-store, email, and SMS messaging promotions. 
As you read further along, we'll work to bring light to how you can use these three marketing efforts to develop an amazing holiday campaign. But before bringing them together into one comprehensive plan, let's take a quick look at ways you can holiday-proof each separately.
In-Store Marketing Efforts
In-store marketing doesn't have to end at just putting up a few holiday decorations throughout the store. This is an opportunity to get creative and wow your customers when they stop-in during their shopping trip. 
Remember, the majority of holiday sales still come from in-store shoppers -- a number that increases by 3.8% in the days right before Christmas Day. So don't get too caught up in the only digital and only mobile marketing mindset.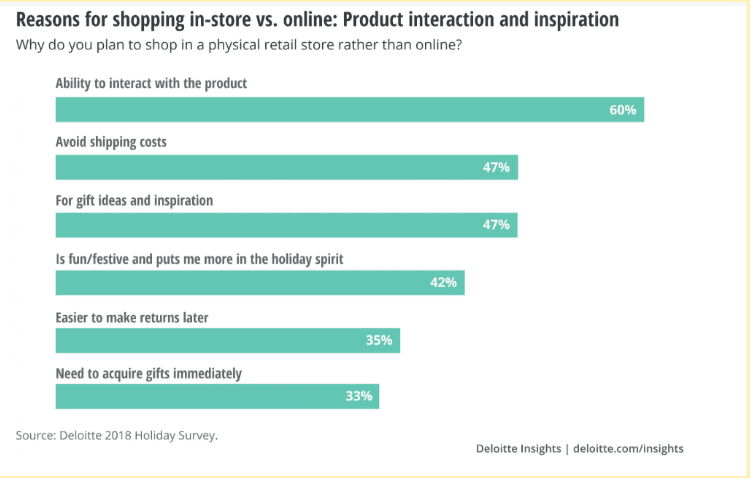 There are a number of reasons why people may choose to shop in-store rather than online. One of those reasons includes putting people in the holiday spirit, meaning it's a great place to get people excited about purchasing gifts/ Image courtesy of
Deloitte
.   
Here are a few different ideas of how you can go above and beyond this year with your in-store marketing and promotions: 
Promote in-store only sales

: encourage customers to shop in-store only sales during the holiday season. These sales can provide them with discounts and special offers they can only get that day, in-store. This is a great option for shoppers who are looking to save some money on products and shipping costs. 

Interactive gift guides

: take advantage of the technology we have at our fingertips. Use an interactive screen to help people find the perfect gift for everyone on their list. Let customers select the gender, interests, styles, etc. of the person they are shopping for and you can provide them with a list of items they may be interested in. 

Host in-store holiday-themed events

: beyond just promoting in-store sales and promotions, you can also host events that will bring shoppers to your location. Host an event where shoppers can grab some free hot chocolate while they shop, provide grab-bag giveaways, or even an "Oops, I forget tomorrow's Christmas" event for those last-minute shoppers. 
The possibilities are endless for in-store marketing efforts -- but keep in mind, this is an article about bringing the in-store and digital experience together. So keep trekking on and you'll find out how these can all come together. 
Email Marketing Efforts
With almost 4 billion email users out there, email marketing is still a valuable tool in the marketing toolbox today. You may hear stories about how email is dying, but the facts just don't lead us to that conclusion. That's why email is included, and is an important component of building this holiday campaign. 
As eCommerce holiday sales continue to increase each year, 41% of consumers plan to do most of their holiday shopping online. Using marketing automation along with in-store marketing will allow you to reach the consumers who don't plan to step foot in a physical store during the holiday season.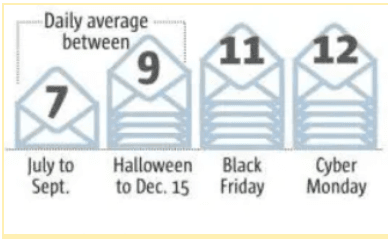 During the holiday season, consumers are receiving more emails each day than any other time of the year. This means you need to make sure your emails stand out above the competition are being opened, and converting. Image courtesy of
The Denver Post
. 
Here are a few suggestions on how you can use email as a part of your holiday marketing campaign: 
Sale and promotion emails

: you can promote any sales (in-store or online) that you are running to your customer list to let them know about the promotion. This will allow them to easily reach your eCommerce store and make a purchase right from their desktop or mobile phone. 

Gift guide emails

: send your email subscribers a gift guide that will let them purchase items directly from your website and ship to their homes. Depending on what your list segmentation looks like, this could be something that becomes targeted and specific to each customer. For example, if you know the user is a mother with sons around the age of 10, you can send them relevant products such as toys or clothing. 
Abandoned cart reminder emails:

let users know they may have left the perfect gift in their cart. As the holidays get closer, you can entice them with discounts, free shipping, and a little sense of urgency when they are running out of time to order online. 
Now last, but not least, let's take a look at how you can use SMS messages to help create your knockout holiday marketing campaign. 
SMS Messaging Efforts
SMS messaging made our list because of a few important facts. First, 98% of people in the 18 to 29 age group own a mobile device that they can receive text messages on. In addition to that, the average response time for text messages is just 90 seconds -- what does that mean for you? It means that your message will be seen and in a timely manner.
SMS messaging is a newer option when it comes to reaching your holiday shoppers. That makes this a new opportunity to outshine the competition. Although the adoption of SMS messaging is picking up, not every company has implemented this tactic like they have email.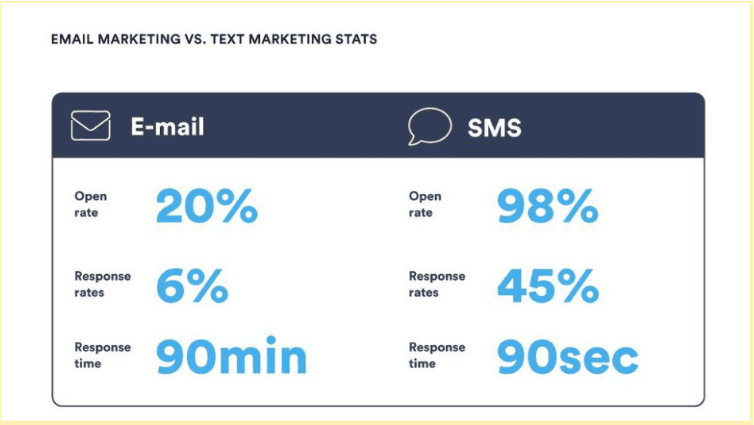 Let's take a look at how you can use SMS messaging to your advantage during the holidays:
Sales and promotion texts

: Just as with email, SMS messaging offers another option for notifying customers about sales and promotions happening at your store. For online-only sales, customers can click right to the site and make a purchase with the coupon code provided in the text -- meaning they don't even have to check their email to make a purchase. 

Geolocation texts

: with the ability to know when a customer is close to your store, you can send them texts inviting them to stop in and shop or about an event happening that day. This option gets your store on their minds while they are already at the mall. 

Confirmation and shipping texts

: during the holidays, customers want to know exactly when they will be receiving the items they purchased online. SMS messaging is a perfect solution for this. You can provide real-time updates to reassure your customers that they will receive the items in enough time to wrap them and put them under the tree. 
Bringing Everything Together
At this point, your mind is probably racing and already starting to connect the dots. There are a few common trends that we discussed, so it's easy to see where some of these will overlap, but let's take a quick look at how all of this can be combined to improve your sales this holiday season. 
Sales and promotions:

this might be the most obvious, but use all avenues to promote your holiday sales. Having in-store signage is only enough to reach customers who are physically at your store. Send emails ahead of sales, even if they are in-store-only sales to get people to the event. You can also use geolocation texts to target customers who are close to your store to let them know what sales are going on that day -- if the promise of a sale or discount doesn't lure them in, not sure what will!
Gift Guides

: We've connected this one between sharing a comprehensive gift guide via email and having the interactive experience in-store. But you can also use the in-store experience to build your email list by allowing customers to email the guide they created to themselves. The gift guide offers shoppers with a very valuable resource that they will be willing to provide their information for. 

In-store holiday-themed events

: this is another option that you can promote through email and SMS messaging. Let customers know about the event ahead of time and send a follow-up response after. Make the events and invites interesting and develop a digital aspect to them. For example, you could send an email to your users reminding them that they only have a few days left to ship items -- but provide an in-store event that targets those last-minute shoppers. It might be too late to ship the perfect gift, but you have it at the last-minute shopper's hub in your store.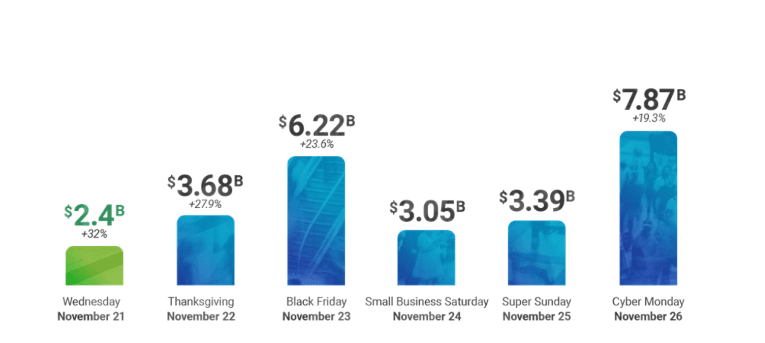 You've got plenty of high-spending days ahead, make sure your marketing campaign is ready to go and bring you a strong end to the year. Use these tactics to help increase your percentage of sales throughout the entire holiday season. Image courtesy of
Listrak
. 
Get creative. The cross-over in these types of marketing efforts is only limited to what your mind can dream up. It's time to get your integrated holiday campaign started -- there's still time to wow your customers this holiday season