Vape pens are the latest trend in terms of culture with a variety of people choosing to use different vape pens and vaporizers. But while all vape may seem the same, it is important to note that different pens and products are not. The following list consists of the Top 3 Vape Pens of 2019 which comes from DankGeek, a trusted supplier of vaporizers and cannabis related vaporization products. Different people have different tastes and preferences which is why there are many different vaporizing pens and products. There are going to be differences in the preferred methods of intake for some people as well as the quality of product. Considering all of these is likely to lead a person to make more informed and more accurate decisions as opposed to spending money on products that are not best suited to the tastes and preferences of the individual.
Dry Herb Vape Pen
One of the advantages to vaporizing is that it takes away all of the harsh elements associated with actual smoking from the experience which is why some people may pursue a dry leaf vape pen. While people are normally used to the smoking of dry leaf, people would be surprised to know that the dry leaf can be vaporized as well which is a much lighter experience that comes with much less harshness and much less bitter taste than smoking. For the reason that it offers a much more lighter and enjoyable experience than actual smoking, many people are choosing dry herb vaporizers to be among their most favorite. The pens use the same flower that is used in the process of smoking so there are no extraction methods or adjustments that need to be made.
Wax Pen Vaporizer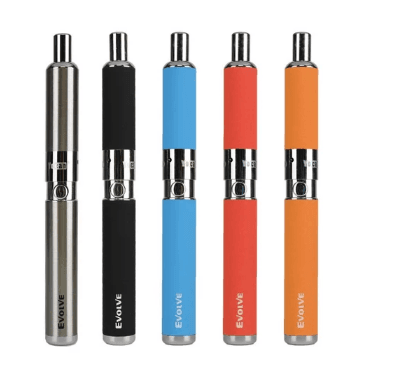 Vaporizer pens are not only used for dry leaf intake but also for specialty wax concentrate intake as well and these are used in a wax pen vaporizer. These pens are going to be different mechanically because the products and substances put into them are going to be different as well. Instead of dry plant matter, these vaporizers take in small amounts of wax which are then vaporized through a more compact atomizer. There are further benefits to vaporizing wax as opposed to oil which includes cutting out many of the non-essentials left in plant matter and obtaining a greater purity. Purity is important for many people and those seeking a higher purity are likely to make their way towards wax concentrate products simply because they contain less plant matter and other elements.
Oil/Extract Pen Vaporizer
These pens and the products associated with them typically come in the form of cartridges and are extracted formulas from the plans that are designed to produce the same effects but with a different method of intake through oil extract vaporizers. Some people prefer to skip the loading and usage of traditional vaporizers which is why some people may prefer the already prepared extract products that are prepared and designed to for intake right away. This is another style of pen vaporizer that is popular among many for its convenience as well as its overall effects in general as well which is another reason why it is popular. Those who are looking for convenience are likely to make their way towards this category of products in general.
Conclusion
There are many different styles of vaporization pens and products that are making their way into the market most recently which is why it's important to be aware of the distinguishing characteristics of each on. Among the main features that differentiate one product from another are the type of vaporization pen the vaporizer is as well as the type of products that it is used for. While not all products can be guaranteed, having this type of information can be beneficial for an individual to make sure they make the right choice when purchasing products based on their tastes and preferences.