There was a time when 3D printing seemed like a technology straight out of a science-fiction movie (think The Replicator of Star Trek Fame) , but not anymore. In the recent years, 3D printers have invaded almost all domains of creativity and production, from manufacturing industries and healthcare sector to restaurants and domestic spheres. If you have a vivid imagination, you can create anything with these 3D printers. Here is a list of 10 of the coolest 3D printed objects that will dazzle you.
1) NASA's 'Space Fabric'
NASA's Jet Propulsion Lab (JPL – Caltech) has recently developed a futuristic 3D printed 'Space Fabric', which is a marvel in itself. The fabric is highly advanced metallic material that incorporates small silver squares printed in a single piece instead of being sewn together. What makes it unique is its enhanced reflectivity, foldability, passive heat management and high tensile strength. The metallic fabric is still under development stage and will possibly be used as protective layer on spacecraft, astronaut spacesuits or other devices in future.
2) 3D Printing Living Tissues
The utilisation of 3D printing technique to combine cells, biomaterials and growth factors to create biomedical parts that imitate natural tissue characteristics is called 3D bioprinting. The medical centre of various universities such as Johns Hopkins University, Indiana University, Pennsylvania State University, Wake Forest University and University of Louisville have successfully 3D bioprinted living tissues forming ear, bone, cartilage plates, capillaries and heart tissues. Researchers are still working towards developing properly functional organs and the day they are successful in bioprinting human organs, would be a quantum leap in the healthcare sector.
3) 3D Printed Nano-sculpture
Jonty Hurwitz, along with the Karlsruhe Institute of Technology and the Weizmann Institute of Science, has 3D printed incredible sculptures of nanoscale. Hurwitz printed a figurine of a woman, which is so tiny that you will require a microscope to view it! This extraordinary feat even earned him a Guinness world record for "The Smallest sculpture of a human form".
4) Deus Ex Prosthetic Limbs
Open Bionics teamed up with video game developers Eidos Montreal to create Deus Ex 3D printed prosthetic arm covers. These custom-made bionic arms weigh less than 150 grams, are super lightweight and very slick. The Deus Ex 3D printed prosthetic limbs are affordable and world's first prosthetic inspired by a video game that look super cool. This fascinating technology might have revolutionary developments in the robotic prosthesis industry in future.
5) 3D Printed 'Hyperelastic Bone"
The healing process of broken bones is very slow and painful. To speed up this process of recovery, researchers at Northwestern University in Illinois have developed a new variety of 3D printed scaffold made up from hydroxyapatite (a mineral found in bone) and polycaprolactone, a biocompatible polymer. This "hyperelastic bone" version is inert, strong and flexible unlike other traditional scaffolds which can provoke immune response in patients or are too brittle.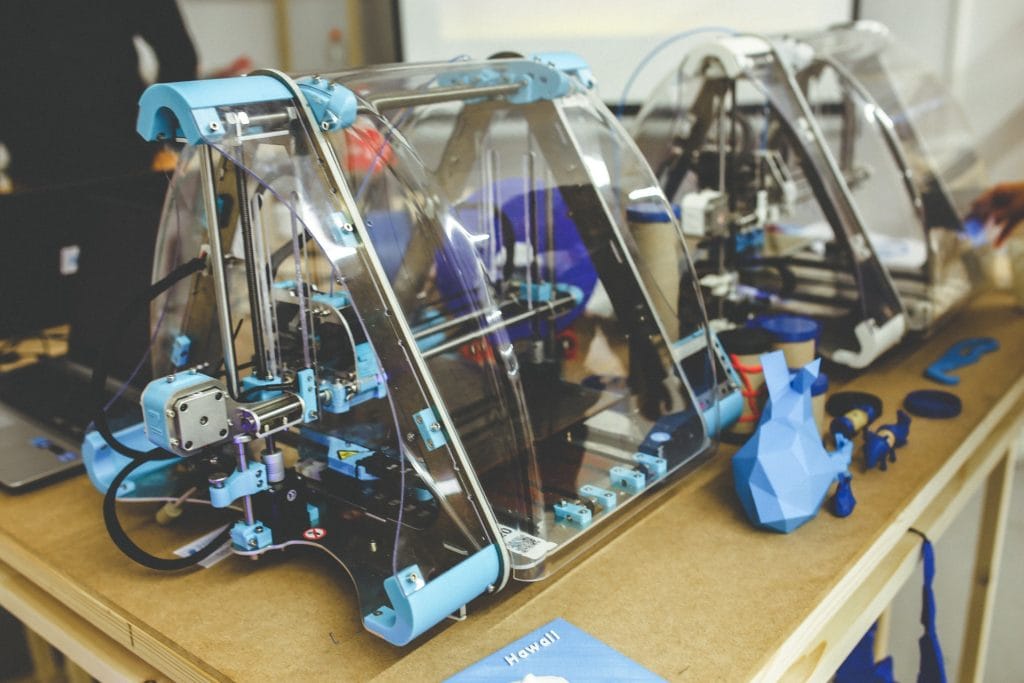 6) 3D Printing in Aviation
One of the biggest advantages of 3D printing technique is that it can create/manufacture complex and bulky structures with utmost precision and speed. Which is why, the technology is being utilised by big names in aviation industry to manufacture aircrafts. Recently, Finnair used 3D printing technique for small-batch manufacturing in its Airbus A320 aircraft while Siemens is investing millions of dollars to open UK's biggest 3D printing factory in Worcester to explore 3D printing in aviation. Even U.S. Marines are 3D printing replacement parts in combat aircrafts.
7) 3D Printed Mandible
The "world's first 3D printed total jaw reconstruction" was produced by a company called Xilloc. This fully customised 3D printed titanium jaw was successfully implanted in an 83-year-old patient with grave jaw infection. The artificial jaw was constructed with powdered metal and was fully functional. This successful introduction of printed implants marks a significant step in the domain of surgical implants.
8) 3D Printed Buildings
In 2013, a China-based company called WinSun Decoration Design Engineering Co. used 3D printing technique to 'print' (though the intellectual Property may belong to Contour Crafting) several impressive buildings from offices to mansions. The company used special ink comprising sand, cement, chopped strand fiberglass and special hardening agent to construct large scale multi-storied buildings from separate 3D printed sections assembled on site. These incredible buildings were strong, eco-friendly, self-insulating and earthquake-resistant, making them cool enough to be included in this list.
9) The Arabesque Wall
Swiss architect-cum-programmers Michael Hansmeyer and Benjamin Dillenburger developed a technique called Digital Grotesque to 3D print a mind-bogglingly intricate art installation. The "Arabesque Wall" is an astonishing artwork that features nearly 200 million surfaces and consumed over 5 tonnes of sandstone. The sheer scale and detailing in the artwork are a sight to behold.
10) 3D Printed Food
Food Ink, a London-based restaurant is one of a kind. The pop-up restaurant created history by becoming the first 3D food printing establishment in the world. Food Ink offered a wide range of 3D printed delectable food items like chocolates, hummus, dough, peas and cheese. Not only food, but the furniture and utensils at the futuristic restaurant were also 3D printed.  
3D printing is a technique that has limitless applications. It is also getting increasingly accessible with DIY 3D printing kits available for purchase online from stores like Qoo10 or Aliexpress. The future of 3D printing may be unpredictable but it's certainly very exciting with many more cool objects to come.