Buying a used coordinate measuring machine is a smart investment for manufacturers that need to improve efficiency and quality on a budget. As with any second-hand purchase, there are inherent risks, but buying from a reputable dealer will mitigate those. Follow the checklist below and you can confidently modernize your shop's QA department with a used coordinate measuring machine.
Machine Meets Your Objectives – A coordinate measuring machine has the potential to change the way your production line works, especially if you aim for inline inspection, but with such a wide array of machines out there, it's important that the one you decide on meets your objectives.
Matches Your Specifications – Before you start your search, find out your tolerance requirements, repeatability standards, minimum volume requirements, and whether you can use touch probes (i.e., is the material malleable or easily scratched).
Inspection – Inspection is what distinguishes a metrology dealer from an auction house, which will turn around a coordinate measuring machine as-is, making it a considerable gamble. If the coordinate measuring machine is damaged, it may need to be refurbished; while not impossible, you will need to budget for repairs, and it's often simpler to buy from a dealer instead. A dealer like Canadian Measurement Metrology (CMM) will perform an inspection and repair any issues before they resell the equipment.
Demo – Before you sign the papers on a used coordinate measuring machine, see the machine in action to verify that it's mechanically sound. If you can't make it in person to see the machine, the dealer should be able to send you a video of it in action.
Guarantee – Another thing an auction won't offer you is a guarantee; warranties can be difficult to find used, but a guarantee will make sure that the used coordinate measuring machine you buy is fully functioning according to specifications after it has been set up on your shop floor.
Delivery – Don't underestimate the importance of having a CMM machine professionally delivered; you will need shipping brackets that will keep the machine secure, as any shifting during transportation could considerably damage the axes, bearings, or the mount plate.
Software – Always check what software you're getting with the equipment, whether it comes with the software key, and whether the software is still relevant. For more efficient programming and CAD modelling, you may want to purchase a software upgrade as well.
Retrofits – Working with an independent metrology dealer means that you can get retrofits or upgrades done on your machine before it winds up in your shop. Most buyers require some kind of customization or retrofit on a used machine; thanks to the cost savings of buying used, shops can invest more money into getting the machine they want.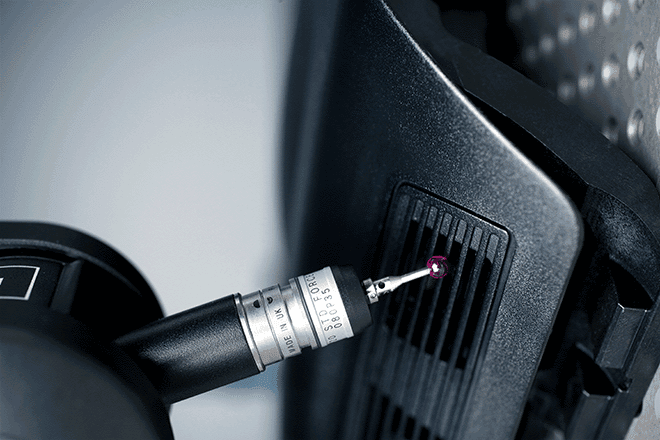 Footprint – If you're looking at used coordinate measuring machines made for very large components, like gantry-style coordinate measuring machines or vertical and horizontal models, double check the footprint of the machine. You will need considerable square footage for these oversized machines and you should also double check that they can fit through halls and doorways, and that you have the ceiling clearance for them. You can find a huge selection of used CMM equipment at the right metrology dealer, including machines suitable for oversized parts like automobile chassis.
Check and double check each of these points before you settle on the machine you want and always work with a reputable dealer who can recommend the right equipment.