I always thought that there wasn't that much difference between showers. Boy, did I find out how out of touch I was!
I like showers. I think they are an incredible luxury, one that often we overlook and take for granted. It's a luxury nobody even could conceive until the modern age came along.  Actually, even as a small kid, we would go up to the summer cabin and we didn't even have running water. We really missed those showers.
If you think of being able to get water at almost any reasonable pressure and temperature on demand, streaming over you, it's really incredible. However I don't want to stop there. We need to talk about what's on offer these days in stores. If you have the money, you can really outdo yourself with a mega-shower with incredible life-changing features.
This all started when I went by a friend's place in Canada a month ago, and in the bathroom I saw one of these Insignia steam showers. Needless to say, I was very, very impressed.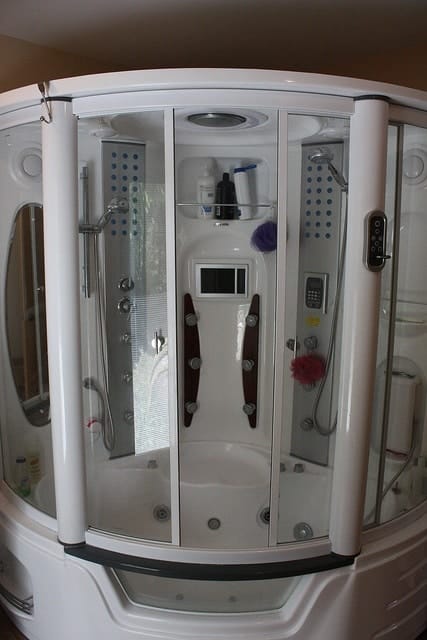 These showers have some amazing features. Multiple nozzles, all with adjustable spray and pressure. A digital thermostat to control water temperature. FM radio and mp3 player to augment your experience with your favorite tunes.  Some of these mega-showers are just hydro showers, but some of the higher-up models of these showers also function as mini steam rooms. This is something that I love, as I have respiratory problems, and having that kind of access to a steam room is amazing for them.
There are also a whole line of showers that in addition to some or all of this, have integrated bathtubs with Jacuzzis. This is truly the best of all the worlds. If you really want to spring for the flagship of the product line, here it is. This one actually has whirlpool jets AND hydro jets included, as well as the handheld or overhead monsoon rain showers.  A new innovation in this particular shower is Bluetooth connectivity.
So welcome to the new age of showers, and the many and varied benefits and features they offer. Besides your own enjoyment, just think about this for a second. These showers can make a real big impression on the opposite sex. Who knows, maybe you could be able to turn that gorgeous one night stand into the love of your life!