Anyone who has followed the Kayla Itsines Bikini Body Guide (BBG workout) and went through the whole program will tell you what it did for them. If you are wondering if it will work for you, I'm here to tell you yes it can.
Kayla Itsines is an Instagram-famous fitness celebrity who is an Australian personal trainer. Kayla's BBG is a twelve-week work out plan. She has three different products that you can buy individually or as a bundle. Her website offers an 80% discount for the bundle, which is what you want because the plan doesn't work without all three e-books and we know you want to achieve your goal! Also, read this article if you want to learn more about Kayla Itsines net worth.
Bikini Body Guide Program eBooks by Kayla Itsines
The three e-books she offers are:
Bikini Body Guide 1.0 workout (weeks 0-12)
BBG pdf 2.0 workout (weeks 12-24)
Bikini Body H.E.L.P Diet Guide (Nutritional plan)
The great things about purchasing the Bikini Body Guide program eBooks is it's a PDF so you can download it right away and can view it from any supporting device. Which means being able to look at your e-books on your phone, tablet, computer and more. There's no waiting so you can get started right away.
In the first e-book, Kayla's BBG Workout 1.0 is the first twelve-week exercise you will begin with, which also includes a four-week pre-training guide for those who haven't exercised for a long period of time.
Now, before you start your diet and excerise plan there's a couple things you should do first. In Kayla's training bikini guide she strongly suggests you:

Take Measurements
Weight yourself; it's important to make sure you get a starting weight so you can keep track of your progress. Kayla recommends wearing the same clothes each time you weigh in. Also, only weigh yourself once a week, and try to make it the same time and day. (i.e.; Monday @8 am). Kayla also goes on to say it's good to weigh yourself when you first wake up in the morning. Always using the same scales is significant, because each scale differs from the next.
Take lots of pictures; Kayla cannot stress enough how important it is to keep track of your progress with pictures. Though scales may not always be accurate, a picture doesn't lie and it's a good way to see how much you are changing, and when you do, make sure to give yourself a pat on the back and do a little jig. Each pound counts. Always remember that. You won't get your bikini body with a snap of your fingers. That would be nice, though wouldn't it?
Girth measurements; Get yourself a girth measuring tape and keep track of those inches you lose. It has plenty of helpful tips, not only for girth measurements, but information on weighing yourself too. It's definitely worth a look.
Kayla Itsines BBG Workouts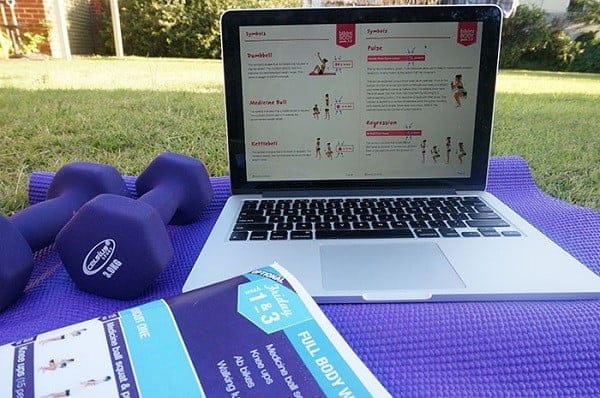 Kayla Itsines breaks down the workout routine over the twelve weeks in a very simple, low-maintenance way. Kayla uses an exercise technique called Progressive Overload, which will show you continuous progress, getting you the results you desire.
Are you getting excited yet? I know I am.
For the first BBG workout plan, Kayla uses three types of training exercises. They are called resistance training, LISS (Low Intensity Steady State) cardio training, and rehabilitation recovery which is stretching.  You will do these workouts for six days, switching back and forth through the twelve weeks.
Then you get to have a day of the week, every Sunday, with no workouts. Yay, a day of rest. It's almost a reward for working so hard. Your body will be happy for it, and you will be proud of all that you accomplished. In the guide, Kayla details which days you do which exercises. It's a simple guide; You will not be confused, like some plans and diets are.
The different exercises are broken down like this:
Legs and cardio- Some, but not all of the following exercises are required for this workout:

Jump squats
Burpees
Knee ups
Weighted step ups

Arms and abs- Some, but not all of the following exercises are required for this workout:

Push ups
Sit ups with twist
Mountain climbers

Full body workout- Some, but not all of the following exercises are required for this workout:

Straight leg sit ups
Walking lunges
Medicine ball squat and presses
Of course, there are many more exercises I have not listed, that will change from week to week. Before you work out though, it's very important to stretch. Stretching prevents injuries, along with many other benefits like better muscle condition and releasing toxins.
Equipment Needed for the BBG Program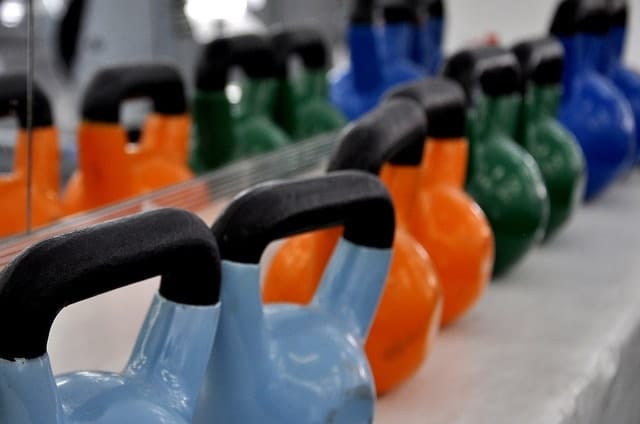 Something you should keep in mind; you will need your own equipment to complete Kayla Itsines Bikini Body Guide workouts. Here is a list of all the equipment you will need:
Barbell
Dumbbells
A flat bench (Should be 30cm or longer)
Kettlebell (Weight should be 17-33lbs)
A Medicine ball (Size about 13-26lbs)
Skipping rope
Kayla Itsines Bikini Body Guide Review Summary
I hope this review has helped you learned some about what is to be expected when you decide to take the plunge and start Kayla's Bikini Body Guide workout. The next step is on you. You have to be ready to make the change. Be ready to get up, get moving and get sweating. I'm here to tell you not to give up. That you can do it. You just have to take it day by day. Eat healthy, stay active and follow the plan and you are guaranteed results.
Having a good support system is a good thing whether it be a friend, significant other or even someone you can connect with through the internet, you will find you are more successful this way; And If you find yourself on an "off" day where you just don't want to get off the couch try to research for motivational tips online to help you get up and keep moving.
Remember, it all starts with you. So, get up and get moving. You can do it with Kayla Itsines Bikini Body Guide Program.