Since its inception, social media has become an integral part of everyone's lives. While there are contrasting views on whether or not our social media use is beneficial or not, social media platforms have amplified social movements that have forced society to broaden its scope of beauty. For example, the body positivity movement and fat acceptance movements were started by plus size black women on social media decades ago, and now, these movements have been commercialized and used widely by women of all shapes and sizes.
Thanks to social media, these movements have not only been able to gain footing, but the frequent use of social media has propelled these movements in ways that have changed the fashion and beauty industries.
When TikTok was created in 2016, it first became a social media platform that was widely used by teenagers. But TikTok now has 800 million users and has grown immensely this year due to the coronavirus pandemic, which forced many into quarantine and perpetual boredom. As more people joined the platform, the content started to change, providing the body positivity movement with a new home.
Young adults and teens quickly took to the app to showcase different body types by dancing to songs or styling outfits. The body positivity content reign on TikTok is far from over. It seems like every day a new trend starts honoring different body types and styles. We've rounded up some of our favorite trends to show you just how body positive TikTok has become.
Image 1
Source: Daniel Constante/Shutterstock
Tummy Love
One body positive trend we love to see is when women band together to duet each other's videos to reveal their perfectly imperfect tummy. This shows women that soft tummies are okay and it also reveals that high-waisted pants and jeans may make a tummy look slim–even if it isn't. Usually women participating in this trend have bodies of all shapes and sizes, which also helps normalize soft tummies and all different types of bodies.
https://vm.tiktok.com/ZMJfrrAP3/
Source: Itsnikki.g
Breaking the Rules
Another body positive trend sweeping TikTok is all about breaking the fashion rules. For example, plus size women have been told they can't wear crop tops because their stomachs aren't flat. But what some TikTokers aim to show women is that you can wear a crop top at any size. We love that women of all body types are starting to feel more comfortable with wearing cute plus size clothes that they love—regardless of the boundaries that society imposes on them.
https://www.tiktok.com/@glitterandlazers/video/6874679421635202309?sender_device=pc&sender_web_id=6809844948532299269&is_from_webapp=1
Source: Glitterandlazers
Clothing Try-On Hauls
While this may not look like it's directly part of the body positivity movement, try-on hauls featuring plus size fall outfits on different body types are positively impacting women and the body positive community by highlighting a variety of figures. These videos not only highlight bodies that aren't often seen in mainstream media or on the runways, but they also show women that you don't have to be a certain body type or size to rock cute outfits.
https://vm.tiktok.com/ZMJfk2mmD/
Source: @_Javierittaaa
Same Style, Different Size
Another way body positivity is making a huge splash on TikTok is when creators showcase the same outfit on two different body types. These videos show TikTok users that certain styles aren't just made for one kind of shape. It also really highlights just how many different body types women have!
https://www.tiktok.com/@denisemmercedes/video/6878740153918180614?sender_device=pc&sender_web_id=6809844948532299269&is_from_webapp=1
Source: @Denisemmercedes
Dispelling Diets
If you're familiar with the body positivity movement, you'll know that the movement prides itself on promoting the notion of loving your body as it is. This means that diets aren't praised by this community, giving women permission to take a break from being inundated with messages around body weight. Many dietitians and nutritionists are taking to TikTok to unveil the dangers behind fad diets, weight loss trends and other negative pressures placed on women's bodies by the media. While the conversation does revolve around diets, it's more of a refreshing take that reinforces a body positive mindset.
https://www.tiktok.com/@stephgrassodietitian/video/6878041479755861253?sender_device=pc&sender_web_id=6809844948532299269&is_from_webapp=1
Source: @Stephgrassodietitian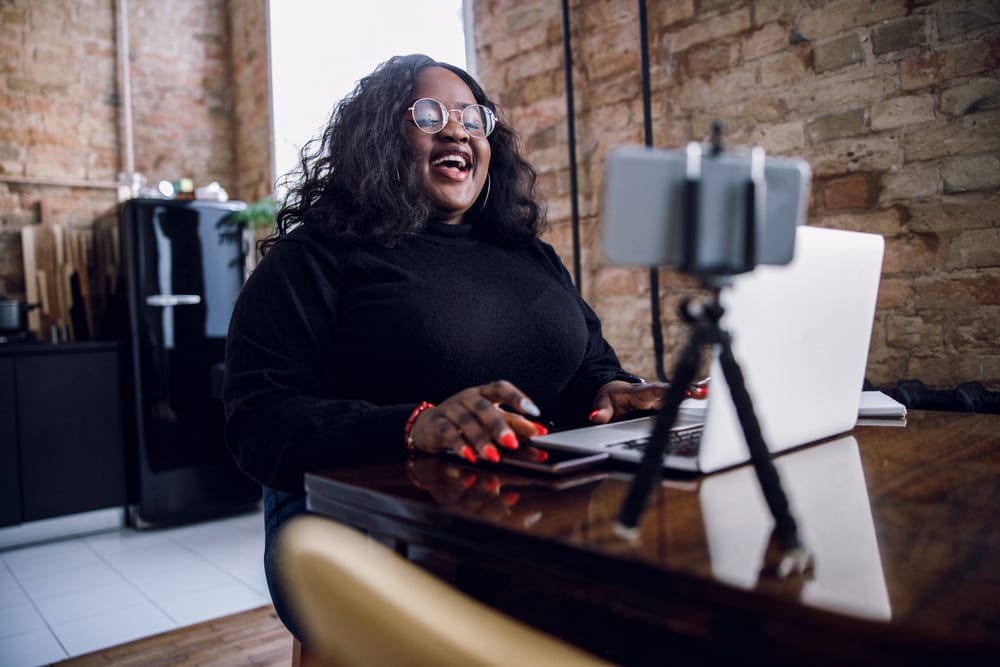 Body Love
Style advice usually revolves around minimizing or flattering certain parts of the body, but on TikTok, there are creators who are showing their followers how they highlight certain areas of their body that most may want to hide. We love these videos because they start a really refreshing conversation around why we want to minimize parts of our bodies.
https://www.tiktok.com/@ashleymariemejia/video/6879442601234271493?sender_device=pc&sender_web_id=6809844948532299269&is_from_webapp=1
Source: @ashleymariemeija
Dancing in Diversity
TikTok is known for being a place where people can create short dances to ultra-trendy songs. While these dances usually go viral, the TikTok algorithm often centers and promotes creators who are conventionally beautiful—thin, white, young and able-bodied. However, more creators are taking to the dance challenges, which means we are finally seeing some diversity. Disabled, plus size and black creators putting their own spin on the popular dance challenges are making huge waves and encouraging all of TikTok's users to express themselves.
https://vm.tiktok.com/ZMJfkYmdC/
Source: Bekahcloud
While social media has provided quite the platform for the body positivity movement, there can be content on these platforms that could be hateful and discouraging. So, be sure to consume social media responsibly and use the "not interested in this" feature that each platform has to make sure your feeds are filled with the positivity you love to consume!