Are Women Underrepresented in the Gaming Industry?
In America, the top gaming establishments are dominated by men. This naturally lends credence to the concept of a glass ceiling for women in gaming. A group of researchers including Michael A. Testagrossa, Christian E. Hardigree J.D, and Wanda M. Costen PhD believed that the proverbial glass ceiling may in fact be more akin to Saran Wrap, as women are constantly pushing the limits at the player level and in management. There is an even split between men and women (according to 2001 stats) in the hotel and food industry, where some 44% of food service managers and hotel managers are females, and 54% of employees are females. Much the same cannot be said of the gaming industry where just 24.8% of management positions in casinos were occupied by females. Of those female managers, 68% were assigned to non-gaming positions. This study confirms what many in the gaming industry have felt for a long time: Men continue to dominate across the spectrum. But is this entirely true? To a large degree, yes. The proverbial glass ceiling is just as evident in the gaming industry as it is on Wall Street where male dominance is pervasive. The study of women in management is well documented. There are moves to improve the ratios so that the fairer sex is represented more equitably. But when it comes to the gaming industry, change has been slow.
What Do the Numbers Say About Women in Gaming?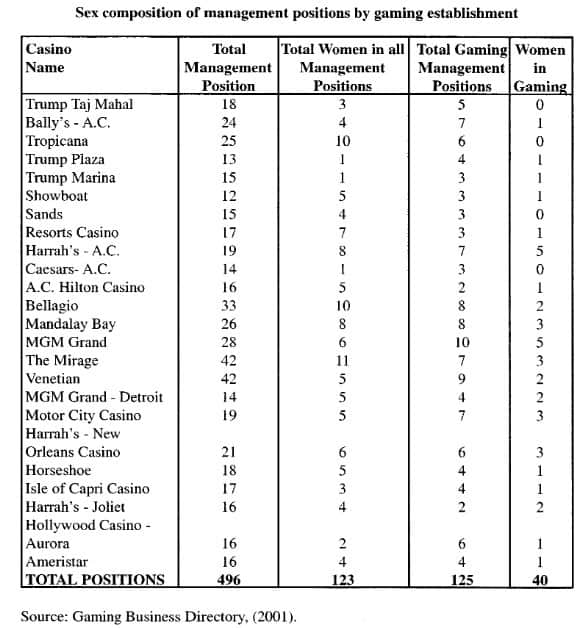 At the time the study was conducted in 2001, just 4 of 24 casino establishments had women in general management positions. This is a shocking indictment of American society, which prides itself on gender equality across the spectrum. The Trump Taj Mahal had a total of 18 management positions with 0 women in gaming and a total of 5 management gaming positions. The casino with the highest number of women in management positions included the following: the MGM Grand with 5 women in gaming management positions from a total of 10 gaming management positions, Harrah's Casino in Atlantic City with 5 women in management positions in the gaming industry, from a total of 7 total gaming management positions. And the Mirage with a total of 3 women in management positions in the gaming industry, and 7 total gaming management positions. The rest of the casinos fare poorly with just 0, 1 or 2 women in management positions. Overall, there were just 40 women in gaming management positions from a total of 125 total gaming management positions, and a total management position of 496.
This begs the question: Has anything changed since the study was conducted 16 years ago?
Yes! There have been dramatic changes in the composition of women in management in the gaming industry. Women today now make up an increasingly larger part of game developers, game designers, game creators, game managers, and players. The latter category has seen the most startling developments in recent years. Popular games like poker – the mainstay of macho men - now feature a huge number of talented female poker players. This flies in the face of the 2001 statistics from the Gaming Business Directory which indicated that the total percentage of women in management in Atlantic City New Jersey, Las Vegas, Nevada and other regions is just 24.80%. Top female poker players are now running circles around the men, as evidenced by the rising stars at leading online poker rooms and in traditional poker games.
Who Are the Queens of Hearts in Poker Today?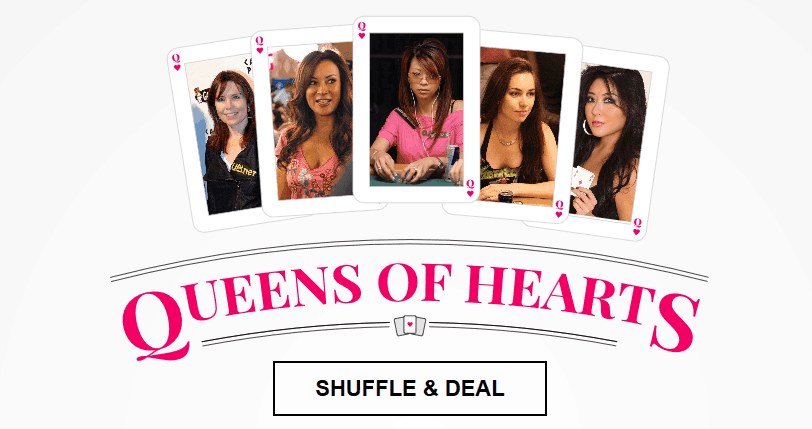 While we may like to think of them as pretty in pink, these girls are rough and tough, dazzling and delightful and super-talented. The Queens of Hearts in poker are ready to shuffle up and deal, and they do so with impunity. Some of the many female poker champions who rule the roost include:
Annie Duke – earnings of $2.3 million with 69 career cashes and 4 titles
Vanessa Selbst - earnings of $11.6 million, with 79 career cashes and 14 titles
Jennifer Tilly - earnings of $810,641 with 28 career cashes and 4 career titles
Xuan Liu - earnings of $1.5 million with 38 career cashes and 2 career titles
Liz Lieu - earnings of $829,051 with 29 career cashes and 3 titles
Maria Ho - earnings of $1.8 million with 63 career cashes and 2 career titles
If these talented starlets are anything to go by, the 2001 statistics have clearly been turned on their head, because these ladies have cut a swathe with players around the world. The ladies are not only going to shatter the glass ceiling, they're making it tough for the men too. More women are turning to poker and other social games than ever before, and this wave is only growing stronger.